---
Kamoa® Store L5 Tenor Deluxe satin finish
---
How do I know which ukulele is right for me?
As a small family specialty business we have helped many thousands of loyal customers to choose the right instrument for their needs with one on one personalized service.   If you need help choosing the right size, design and wood selection call, text us or message us through our Instagram (link below) we are glad to help!  Kamoa is the house brand of Larry's Music Est. 1952. We are a multi-generational family owned business located on the island of Kauai, HI in historic Kapa'a town.  Our rarest top-tier instruments are not shown on our website and are reserved for walk-in customers in our historic Kapa'a store.  If you have visited us previously and are interested in an instrument not shown on our site you can message us for personal assistance.  We ship worldwide and also offer complimentary lessons daily during normal hours. For your satisfaction one of our family members will work with you to understand your exact needs before we ship. We look forward to hearing from you! 
---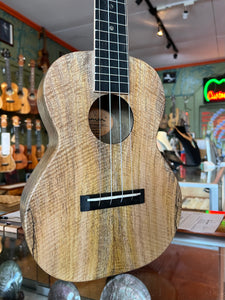 IN STOCK! 2023 Kamoa M5 Curly Mango LTD Tenor ukulele FREE FEDEX SHIPPING!! LIMITED EDITION!!!
---
Free Shipping! BRAND NEW Kamoa® E5-T - tenor Deluxe Cedar Ebony (100% Solid Wood) SOLD OUT! FREE HARD CASE!
---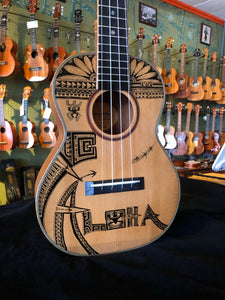 "FREE SHIPPING (SOLD) Aloha" Polynesian Tattoo by Heifara one of a kind!
---
SOLD OUT!! BRAND NEW Kamoa® M5-T- Tenor Ukulele (100% Solid Wood) FREE SHIPPING
---
5 Stars on Google and Yelp!
Updated 1/4/2022: With 5 stars on yelp and Google why not give us a try? Kamoa offers a 100% satisfaction guarantee! You will love it or we will return or exchange it! You will be glad you did. Check out our best seller from 2021 (link below) or text Samuel at 808 652 9999 for personal assistance with your next ukulele.
Best Seller 2021